NEA® Model ZSF and IFD Zero Separation Force Connector
Reliable in-flight electrical disconnects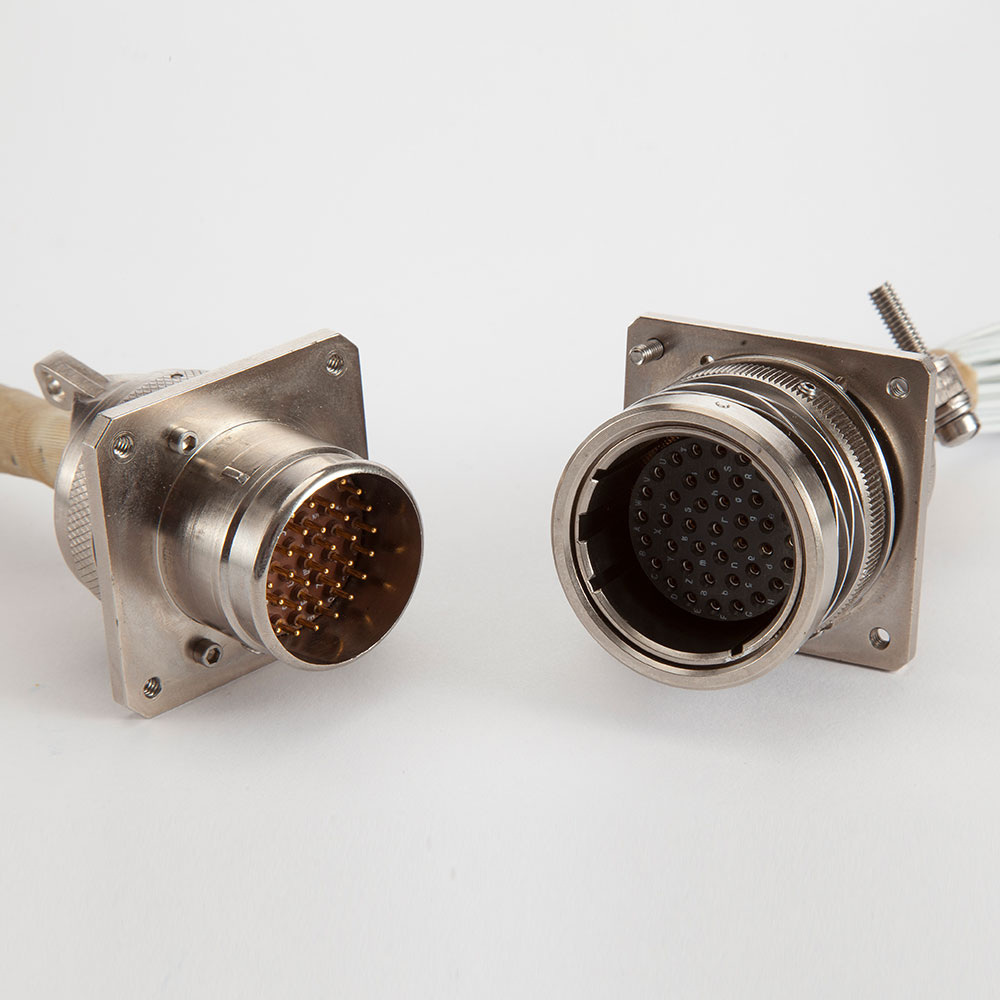 Overview
EBAD's Zero Separation Force (ZSF) and In-Flight Disconnects (IFD) connectors are reliable in-flight electrical disconnects for satellite and spacecraft separation, missile staging, and umbilical separation. Connector pairs are designed to provide precision zero, positive or negative separation force, eliminating the need for lanyard pull actuation.
Principle of Operation
The NEA® ZSF and IFD electrical interconnects incorporate standard MIL-DTL-38999 inserts and MIL-C-39029 pin and socket contacts.
Each mated connector pair is factory calibrated to compensate for connector pin engagement and other retention forces, assuring precise and smooth separation. ZSF and IFD connectors feature a floating shell, eliminating jamming during mating and separation. Blind engagement of the plug and receptacle pairs is possible, since the connectors allow for linear and angular misalignment. Connectors can be mounted from the rear of the panel or bracket, allowing for ease of installation. All of the in-flight disconnects are backshell ready, and if required, can be provided with the overall system.
EBAD has the capability to pair our connectors with our non-explosive Hold Down & Release Mechanisms (HDRM) and other hardware such as brackets, alignment pins, springs, and harnessing to provide low-shock, high reliability stage and umbilical disconnect assemblies.
Applications
Typical applications include:
Satellite, spacecraft and payloads
Stage separation
Umbilical disconnects
Panel disconnect assemblies
Key Features
Zero, positive, or negative separation force
Mounts from rear of panel or bracket
Tolerates wide range of linear and angular misalignment permitting blind engagement
Standard MIL-DTL-38999 inserts
Full range of keying configurations
Service Class H
Utilizes MIL-C-39029 pin and socket contacts
AS85049 compatible backshell
Backshell hardware available
Complete harness and disconnect assemblies available
ZSF100 series mates with our Model DF200 and 201 dead face connectors
EBAD™ release device technology provides significant advantages.
Low Shock — There are three sources of shock with traditional pyrotechnic release devices; those include the pyrotechnic initiator and the resulting transfer of kinetic energy within the mechanism. The EBAD™ approach eliminates both of these sources of shock. There is no pyrotechnic initiator required so there is no initial shock and the restraint wire release mechanism is also not a significant contributor to shock.
A third source of shock is the energy stored in the release rod itself as well as any of the other components that are in the preload path. The nature of EBAD™ device's gentle release of preload allows this stored energy to be dissipated over the release event minimizing the stored energy contribution to shock as well.
Fast Acting — With respect to shock, the action of EBAD™ devices is quite gentle yet the release event itself is still very fast. Since the bridge wire is extremely small the release event can be triggered in milliseconds. This capability allows multiple EBAD™ devices to be used in parallel where simultaneous release is required, such as large solar array panels and spacecraft stage separations.
Reliable —With simplicity comes reliability. The basic design of the NEA® HDRM is very simple with a minimum of moving components. The devices are robust and not sensitive to extreme environments or contaminants. High reliability is supported both analytically and by an extensive history of successful operation in mission critical applications.
Light Weight — EBAD™ devices offer extremely high preload release capacities versus unit mass. Some NEA® HDRM models have specific preload release capacities greater than 300N/g.
Temperature Insensitive — The simplicity of the EBAD™ release device mechanism is an asset not just for reliability but also with respect to temperature sensitivity. NEA® HDRMs are insensitive to extreme temperatures. Specific NEA® HDRMs have been qualified for operation at temperatures as low as 25K. The extreme low mass of the bridge wire results in actuation performance that insensitive to initial conditions.
Low Risk — NEA® HDRMs have an extensive history of use on a broad variety of spaceflight applications and are currently the baseline release device of choice on most major spacecraft buses. This history of reliability and mission success makes the NEA® HDRM our customers' low risk option.
Compatible — NEA® HDRM devices have been designed to work with existing pyro firing circuits. The flexibility of the design however also allows operation with lower firing current if required.
Model ZSF and IFD Configurations