With Simplicity Comes Reliability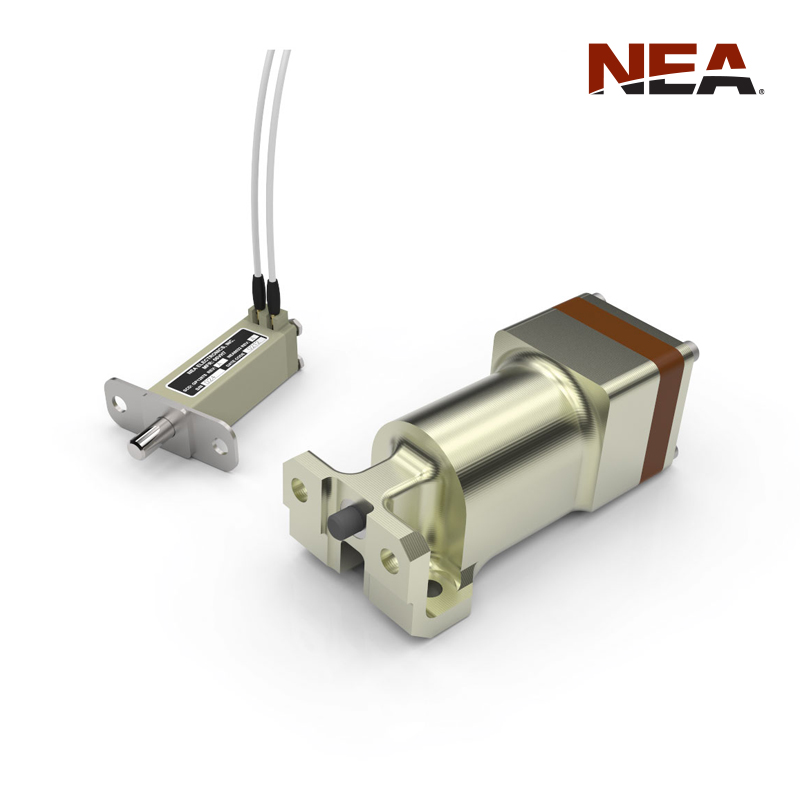 Overview
EBAD is the global leader in non-pyrotechnic Hold Down & Release Mechanisms (HDRM) for the spacecraft market. Our patented split spool technology that has made our HDRMs the industry standard for non-pyrotechnic release mechanisms is also available in Pin Puller configurations.
Principle of Operation
EBAD Pin Pullers consist of a spring loaded plunger that is restrained using the same patented split-spool and fuse wire technology used in our Hold Down & Release Mechanisms. The spool subassembly includes two spool halves which are held together by a tight winding of a restraining wire that terminates in a fuse wire connecting two electrical terminals at the electrical interface to the device. The spool assembly, by virtue of the restraining wire winding, can prevent axial motion of the plunger. When sufficient electrical current is passed through the terminals and the fuse wire, the fuse wire heats up and breaks under the applied tension load. This allows the restraining wire to unwind, separating the spool halves and releasing the spring preloaded plunger.
The actuation method is simple and reliable and forms the basis of actuation for many of EBAD's other products including; Battery Cell Bypass Switches and Non-Pyrotechnic Valves.
Applications
Typical applications include:
Antennas
Scientific instruments
Solar arrays
Reflectors
Satellite, spacecraft payloads
Booms and masts
Stage separation
Caging mechanisms
Key Features
Extremely low release shock
Redundant or non-redundant actuation circuit
Near simultaneous release of multiple hold-down points (<10 ms)
Internal torque containment
Extended operating temperature range
Can be operated with pyrotechnic initiation circuitry
Range safety friendly
Space-rated materials
Factory refurbishment
EBAD release device technology provides significant advantages.
Low Shock – There are three sources of shock with traditional pyrotechnic release devices; those include the pyrotechnic initiator and the resulting transfer of kinetic energy within the mechanism. The EBAD approach eliminates both of these sources of shock.There is no pyrotechnic initiator required so there is no initial shock and the restraint wire release mechanism is also not a significant contributor to shock.
A third source of shock is the energy stored in the release rod itself as well as any of the other components that are in the preload path. The nature of EBAD device's gentle release of preload allows this stored energy to be dissipated over the release event minimizing the stored energy contribution to shock as well.
Fast Acting – With respect to shock, the action of EBAD devices is quite gentle yet the release event itself is still very fast. Since the fuse wire is extremely small the release event can be triggered in milliseconds. This capability allows multiple EBAD devices to be used in parallel where simultaneous release is required, such as large solar array panels and spacecraft stage separations.
Reliable – With simplicity comes reliability. The basic design of the EBAD NEA® Pin Puller is very simple with a minimum of moving components. The devices are robust and not sensitive to extreme environments or contaminants. High reliability is supported both analytically and by an extensive history of successful operation in mission critical applications. EBAD Pin Pullers are available in both electrically redundant and non-redundant configurations.
Temperature Insensitive – The simplicity of the EBAD NEA® release device mechanism is an asset not just for reliability but also with respect to temperature sensitivity. EABD Pin Pullers are insensitive to extreme temperatures. EBAD Pin Pullers currently being manufactured are being qualified for operation at 25K. The extreme low mass of the fuse wire results in actuation performance that is insensitive to initial conditions.
Low Risk – EBAD Pin Pullers have an extensive history of use on a broad variety of spaceflight applications and are currently the baseline release device of choice on most major spacecraft buses. This history of reliability and mission success makes EBAD Pin Pullers our customers' lowest risk option.
Compatible – EBAD NEA® Pin Puller devices have been designed to work with existing pyro firing circuits. The flexibility of the design however also allows operation with lower firing current if required.
In addition to our line of standard Pin Pullers, EBAD can provide custom configurations that include: modifications to the mechanical interface, modified housing designs, changes to lead wires, revisions to load capability, additional connector housings, and materials changes. EBAD can also provide Pin Pullers as part of a next higher assembly either built to our customer's prints or designed at EBAD to our customer's specifications. Our Pin Pullers can also be integrated into our electromechanical gimbal actuators as part of a launch restraint system or range of motion limitation.
Many of our current customers rely on EBAD's in-house engineering expertise to integrate our market leading split-spool Pin Puller technology into custom assemblies to improve their competitive edge.
Typical Pin Puller Actuation Curves
A set of typical Pin Puller actuation curves showing the actuation time as a function of the actuation current are presented below. Please contact our applications engineers for specific curves for each product.
| Model Number | Pull Force Beginning of Stroke | Pull Force End of Stroke | Actuation Current1 (A) | HRelease Time2 (ms) | Qualification Temperature Range3 | Mass4 | Data Sheet | CAD Model5 |
| --- | --- | --- | --- | --- | --- | --- | --- | --- |
| 1120 | 90 N (20 lbf) | 50 N (11 lbf) | 4 | <50 | -60°C to +150°C | 35 g (0.08 lb) | Download PDF | 1120 |
| 2545 | 200 N (45 lbf) | 111 N (25 lbf) | 4 | <50 | -101°C to +172°C | 182 g (0.40 lb) | Download PDF | 2545 |
Notes:
1 Actuation can be achieved using a range of current, the value in the table is a nominal value applied for 25 ms.
2 Release time is a function of actuation current, contact applications engineering for actuation time as a function of current curves.
3 The values presented for qualification temperature range are not a measure of the limits of the device.
4 Mass does not include harnessing and lead wires.
5 CAD Model is provided for convenience and reference only.