TiNi™ Ejector Release Mechanism (ERM)
High Load Holding Capability and Fast Actuation Time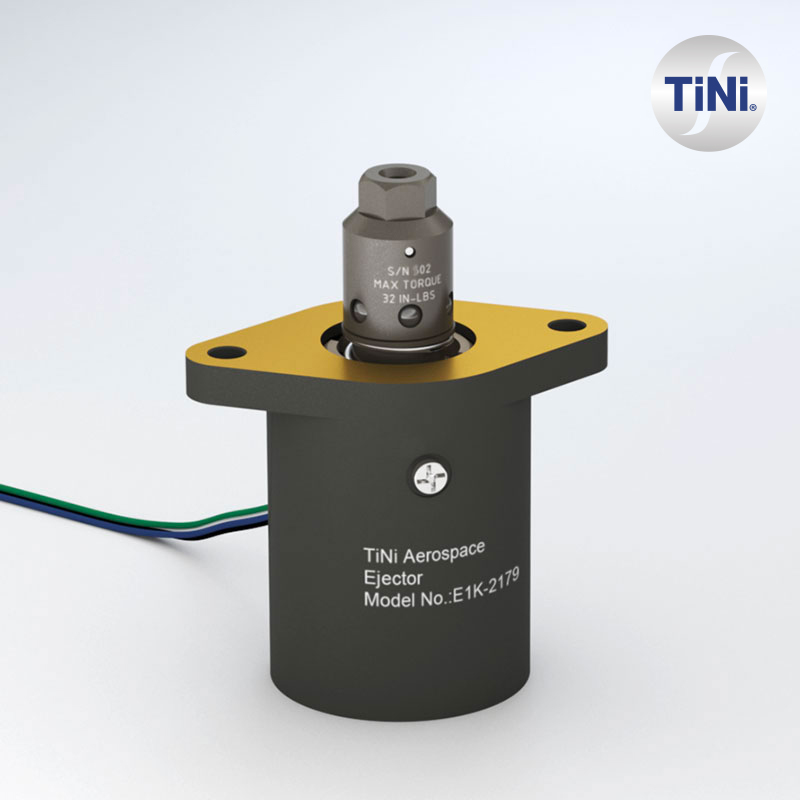 The EBAD TiNi™ Ejector Release Mechanism (ERM) is a uniquely simple and effective device which offers both high load holding capability and fast actuation time. The Actuator "Coupler" acts as a detachable Nut and may be used to support and release loads up to 4000 lbf.
---
Flight Qualified – The ERM is a derivative of the EBAD TiNi™ Pinpuller product line and was first flight qualified in March of 2001.
NEA (Non-Explosive Actuators) – As with all EBAD TiNi™ products, the ERM is non-pyrotechnic and field reset-able with a minimum qualified life of 50 cycles.
Field Reset-able and Reliable – The ERM can be reset within seconds while still attached to the structure via a simple tool provided by EBAD.
Redundant Firing Circuit – As with all TiNi™ Actuators a redundant SMA circuit is incorporated. This provides complete electrical redundancy as well as mechanical redundancy for the critical TiNi™ trigger element.
Fast Acting – All TiNi™ ERMs can be actuated with a standard pyro pulse of only 25 milliseconds or less.
Auto Shut-Off Switches – Simple Auto Shut Off Switches are incorporated into each ERM to protect the TiNi™ Trigger. This makes them very "user friendly" and operable from a wide range of current and voltages.
Misalignment Protection – All ERMs have a swivel feature such that the Actuator can rotate +/-5 degrees within its mounting enclosure. This is an important feature which protects against binding due to possible misalignment, and or instances where the deployable traverses an arc after release (such as in hinged assemblies).
The EBAD TiNi™ standard ERM is rated for a minimum life of 50 actuation and reset cycles. For continued testing, EBAD™ provides reset tools of various shapes and designs. In some cases, customers require custom reset tools to accommodate space constraints. These can be readily designed and manufactured to suit application needs.
Standard ERM reset tools come in two basic designs – A bottle opener style with folding arms and a basic jackscrew type that is turned using a "T" handle or torque wrench via a hex head. The table below provides a list of reset tools for each of our standard ERMs.
Reset Tool Details for TiNi™ ERM Options
*Commercial Item per FAR 2.101