Fast Acting for Many Aerospace Applications
The EBAD TiNi™ Pin Puller is fast acting and suitable for a variety of Aerospace applications. Pin retraction is achieved by coupling the recovery characteristics of Shape Memory Alloys with a patented trigger mechanism. Pin Puller pull force ranges from 5 to 1000 lbf with five standard sizes offered as COTS (Commercial Off the Shelf) items.
---
Flight Qualified – Since its outer space debut aboard the Mars Global Surveyor spacecraft in November 1996, the TiNi™ Pinpuller has been qualified and used on numerous other space applications.
NEA (Non-Explosive Actuators) – As with all the EBAD TiNi™ products, the Pinpullers are non-pyrotechnic and field reset-able with a minimum qualified life of 100 cycles.
Field Reset-able and Reliable – The mechanism is reset by simply re-extending the output shaft or Pin which may be accessed from the front or rear of the Pinpuller.
Redundant Firing Circuit – As with all EBAD TiNi™ Actuators a redundant SMA circuit is incorporated. This provides complete electrical redundancy as well as mechanical redundancy for the critical trigger element.
Fast Acting – By directly passing current through the SMA element, the Pinpuller's perform in millisecond time frame making them ideal for synchronized and simultaneous release of multiple tie-down payloads.
Auto Shut-Off Switches – Simple Auto Shut Off Switches are incorporated into each Pinpuller to protect the Trigger. This makes them very "user friendly" and operable from a wide range of current and voltages.
Using Shape Memory Alloy "SMSA" EBAD's TiNi™ Pin Pullers are a non-pyro, fast actuating mechanism, in which the user is able to field reset with a simple reset tool. The TiNi™ pin puller family has a variety of qualified designs ranging from 5 to 100lbs of pull force. All pin pullers come with electrical redundancy and the ability to be reset from the front or back. Alternative configurations allow for the pin pullers to be tailored for a variety of voltage ranges.
Contact us for more information on this product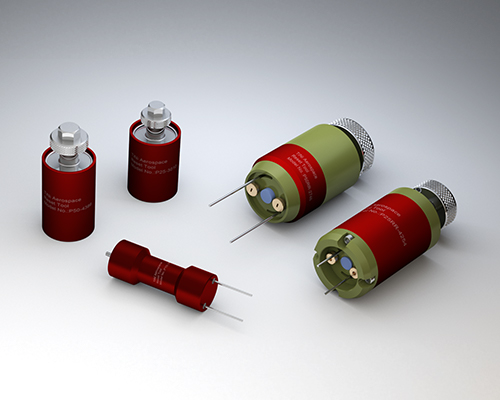 All EBAD TiNi™ standard Pin Pullers are rated for a life of a minimum 100 actuation and reset cycles. For continued testing, EBAD provides reset tools of various shapes and designs – A few of which are shown in the photo to the right.
Standard Pin Puller reset tools come in two basic designs – A manual "push-pull" type that can be used to reset Pin Pullers up to 10 lbf. (ie P10), and a jack screw type that is used to reset up to 1000 lbf. All are simple to use and can be readily customized to suit application constraints.
Reset Tool Details for TiNi™ Pin Puller Options
Note: Contact EBAD for detailed ICD (Interface Control Drawing).
*Commercial Item per FAR 2.101